Install Squirrly SEO Plugin
Overview
Squirrly SEO is designed to help both NON-SEO and SEO people to rank on TOP 10 Google for the right keywords. If you are a NON-SEO person, just install the plugin and let the automation feature do the basic SEO for your entire website.
Squirrly SEO is a freemium SEO plugin model, which means you can install and use it for FREE. If you have small content marketing needs (some keywords that you want to analyze, simple SEO strategy), then it's the perfect plan for you.
Once you start having more significant content marketing and SEO needs, you can upgrade to the PRO or Business version.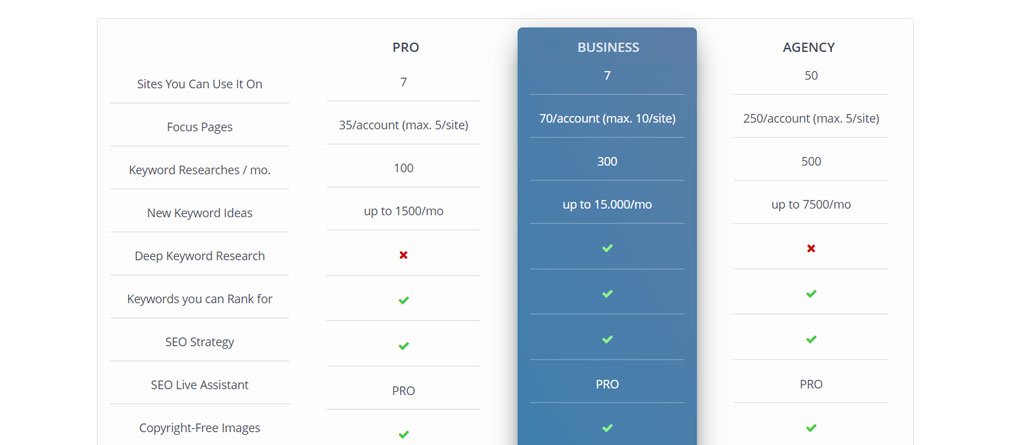 Squirrly SEO is the only WordPress SEO plugin that offers Assisted SEO and all the on-page tools you need to take your site from "Never Found" to Always Found on search engines like Google, Bing, Yandex, etc.
While Assistant Technology like Intelligent Parking Assist helps you park your car safely, Squirrly SEO helps you place your pages safely in top positions. More than that, some of the Assisted SEO features we have on-board actually help you find spots on search engines, where you'll easily park your pages and nobody will bother you (because the competition will be low, even though these spots could earn you many organic visits).
Simply follow the guidance provided by the NEXT SEO Goals feature and the Focus Pages feature to:
identify key issues that are stopping you from reaching the 1st Page of Google;
complete personalized, AI-powered Goals to improve your chances of ranking;
and consistently rank your pages at the top of Google's Search Results.
---
Download Squirrly SEO
You can download Squirrly SEO from WordPress Directory or from our site and use it for free for unlimited WordPress sites.
To download Squirrly SEO from the WordPress directory, click on the Download button, as show in the image below.
---
Install and Activate Squirrly SEO
Login to your admin account in your WordPress Site.
Click on "Plugins" in the left side menu.
Now Click on "Add new"
In this tab, click on the "Upload plugin" button on the top.
Upload the "squirrly-seo.zip" file by clicking the "Choose File" button.
Click on the "Install Now" Button.
After the upload is finished, click Activate Plugin.
Install from WordPress Dashboard
Click on the "Plugins" tab in the menu displayed on the left.
Now click on the "Add New" button.
In the right corner type "Squirrly SEO" and hit enter to search.
Click on the "Install Now" button next to the plugin.
After the installation is done click "Activate".
---
Connect Squirrly SEO to Squirrly Cloud
Once you activate Squirrly SEO on your website you will be redirected to login to Squirrly Cloud.
By connecting your WordPress to Squirrly Cloud, you will get access to the Non-Human SEO Consultant, Focus Pages, SEO Audits, Google Rankings, and all our features.
To connect to Squirrly Cloud, read our Terms and Privacy Policy carefully, add your email and click on the Sign Up button. You will receive a password by email which you can change when you connect to https://cloud.squirrly.co.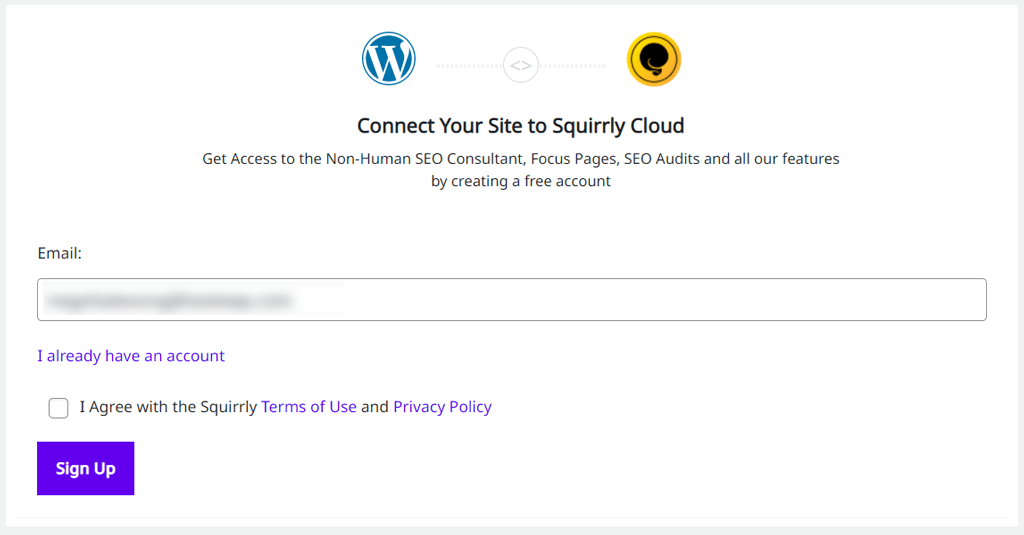 If you receive an error message while register or login, read the login error messages.
---
Import Settings and SEO from other plugins
To reach this section, go to: Squirrly SEO > SEO Configuration > Import & Data > Import Settings &SEO
Even if Squirrly SEO works with other SEO plugins, each plugin is using resources and may affect the page loading time which is more and more a ranking signal for Google and other Search Engines.
Squirrly comes with a fast and easy way to import all Settings and SEO from other popular SEO plugins without affecting the SEO integrity.
Here's what you need to do to import the SEO from other plugins in case you had another SEO plugin installed before.
Go to Squirrly SEO > SEO Configuration > Import & Data > Import Settings and SEO
To import the Settings, select the plugin from the list and click on Import Settings button.
To import the SEO, select the plugin from the list and click on Import SEO button.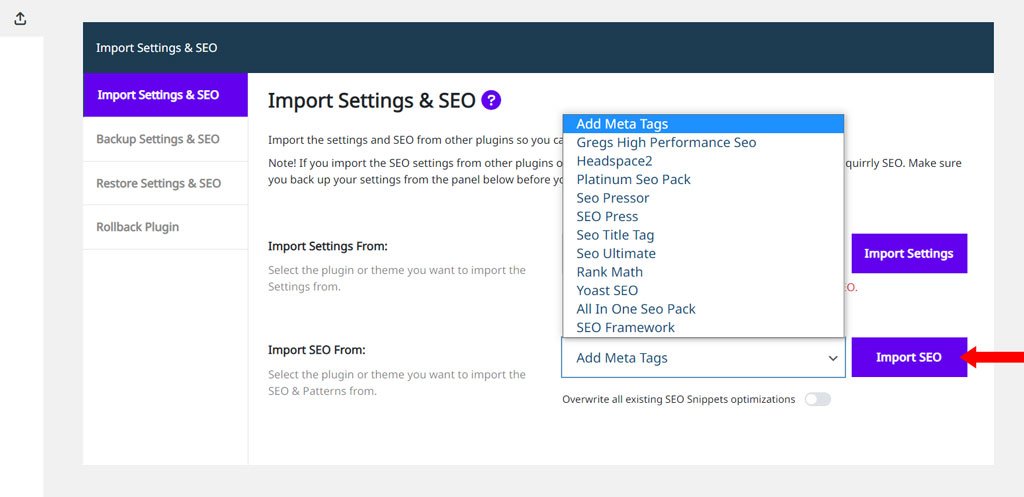 After you import all the settings and SEO optimization for the other plugin, you can delete it and let Squirrly SEO do its magic.
You can get more information on how to import Settings & SEO from other SEO plugins using Squirrly's import features here >>
---
14 Days Journey To Better Ranking
From Squirrly SEO > All Features you can choose to start a 14 Days Journey to Better Ranking.
This is the best way to start a new website or to improve the SEO for an existing website. Squirrly will help you through your SEO strategy and will guide you in order to get the best results in just 14 days.
To start the Journey, just click on See Feature.
Join the Squirrly Journey Team and hang out with other people who also started the journey and have already succeeded with their websites.
Now, all you have to do to get better rankings is to follow the 5 minutes daily lessons from Squirrly > Overview, complete the tasks and check the ranking for the pages you choose to rank better in this amount of time.
Don't worry if you missed a day, you can check the passed days at Squirrly SEO > Overview > 14 Days Journey by clicking on the day number.
Once you completed the journey, you will be able to repeat the same actions for other pages as well.
Get ready for the race to TOP 10 Google
Everyone who's been in this industry for a hot second knows that competing for the top rankings in Google can feel a lot like racing. Racing in a super-fast, insanely crowded, car race where you're competing with bigger, faster, more expensive cars all the time. Everyone's trying to get in front, stand out and smoke the car behind them.
And if Search Engine Optimization is a car race, your website is your race car.
And let's put it this way: As things stand right now, you could be blindfolded, driving a car not optimized for the race on uncertain track conditions.
But what if you could look to your right and have someone there you can genuinely trust, someone knowledgeable enough to guide and assist you in this race you're competing in every single day as a site owner? I'm talking about someone whose primary concern is to make your job easier and help you SUCCEED.
That's Squirrly SEO for you.
Squirrly SEO gives you the Knowledge + Tools + Guidance you need to shift your SEO Results into top Gear:
The Knowledge to take the blindfold off and maximize your level of SEO awareness. Step-by-step process with learning on the way, which makes it great for those who are not SEO experts. You'll get free coaching sessions to master the basics of SEO and conquer the advanced tactics.

The Tools you need to successfully implement the best SEO tactics. Top automation features to work smarter and more efficiently, from Keyword Research, On-Page Optimization, to a Weekly SEO Audit and everything in between.

The Guidance to keep you focused and always moving forward through changing SEO scenery, Google updates, and more. You'll benefit from constant in-plugin guidance via features such as Focus Pages and NEXT SEO Goals.
Through machine learning, Squirrly's AI systems filter through the billions of data points that have made over 600,000 websites rank higher on Google.
Based on that data, Squirrly will reveal high-impact, AI-powered (Goals) that are 100% relevant to your site. You'll also get detailed instructions on how to complete every goal – and which of Squirrly's built-in tools you can use to get the job done faster. So you'll know exactly what actions you should take so that your pages rank higher on Google. No more guesswork.
---
Hear from customers who've reached the top of Google using Squirrly SEO here >>